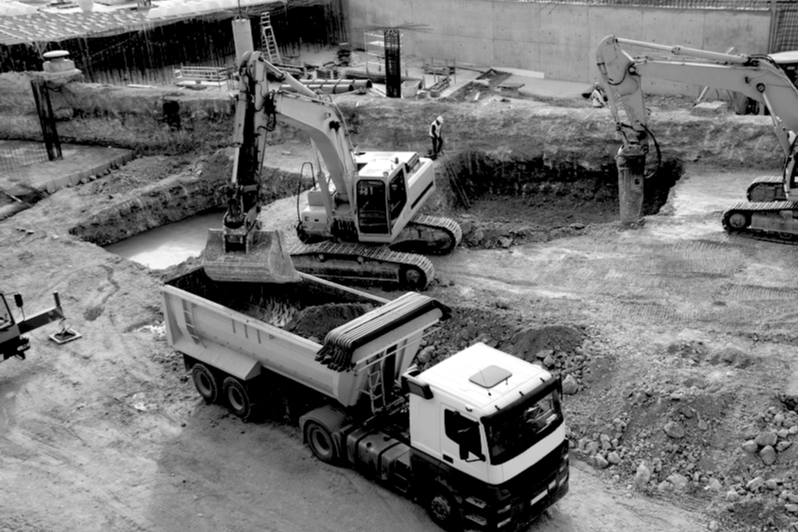 Image credit: Rob Wilson/shutterstock.com
As a business owner bidding on projects with diversity requirements, there is more to concern yourself with than simply submitting a competitive bid. You need to be aware of the various Minority, Women, and Disadvantaged Businesses (MWDBE) goal requirement schemes, so you do not unwittingly get caught in something deceptive and illegal. We have been writing about these schemes recently, including pass- throughs and fronts. This post will examine what is known as a Trucking Scheme.
Trucking Scheme
A trucking scheme can take the form of either a pass-through or a front. The scheme materializes as either non-certified firms mixing in with the MWDBE's trucks or the MWDBE trucking firm brokering all the hauling services by hiring non-certified firms to perform the work without providing any of its trucks. The MWDBE (XBE) firm is presented as performing all the hauling services with its own trucks. Many of the non-XBE trucks have magnetic signs with the name, logo, and USDOT number of the XBE firm, giving the appearance that they belong to the XBE firm. The full value of the hauling services is credited but in fact the XBE firm only keeps a portion of the payment received, with the remainder going to non-certified firms.
As with other fraud schemes, there can be penalties of debarment, fines, and prison terms for all the companies involved in the scheme. General Contractors can be placed under a monitorship in addition to the above.
Misleading Reports
Let's look at a court case to examine this scheme further. In 2015 C.W. Matthews Contracting Company (Matthews) was awarded a number of contracts that included DBE requirements. In each bid, Matthews committed to subcontract to a DBE firm called Longoria Trucking (Longoria). Matthews submitted reports that indicated the work that Longoria supposedly performed and the money supposedly paid to Longoria. However, a non-DBE trucking firm, G.E. Robinson (Robinson), performed a majority of the work and received most of the payments. Matthews either knew or should have known what was really happening. Despite this, Matthews continued to submit false and misleading reports regarding Longoria's work and payments received.
The United States Attorney's Office for the Northern District of Georgia stated, "In certifying that Longoria was performing work under the contracts, despite clear signs that the work was actually being performed by G.E. Robinson, C.W. Matthews, at minimum, was either reckless or deliberately indifferent."
As a result, Matthews paid $1M dollars to settle claims that it violated the False Claims Act. The company submitted false certifications concerning work performed on various federally assisted highway construction contracts and compliance with the USDOT's DBE program. There was also a separate court settlement with the Federal Highway Administration, where Matthews agreed to:
Adopt an ethics code and a corporate compliance program
Appoint a compliance officer
Retain an independent monitor to assess its performance
Don't get caught up in these compliance schemes. Protect your business. Make sure you have a compliant MWDBE program as part of your risk management agenda. Reach out to us, and let our team of professionals support your firm with program development, the performance of good faith efforts, compliance activities, workforce participation, and related administrative services.
TSIB's Risk Consultants are currently servicing the following locations:
East Coast: New York City, NY; Bergen County, NJ; Fairfield County, CT; Philadelphia, PA
Texas: Austin, San Antonio, Houston, Dallas
California: Orange County, Los Angeles County, Riverside County, San Bernardino County, San Diego County