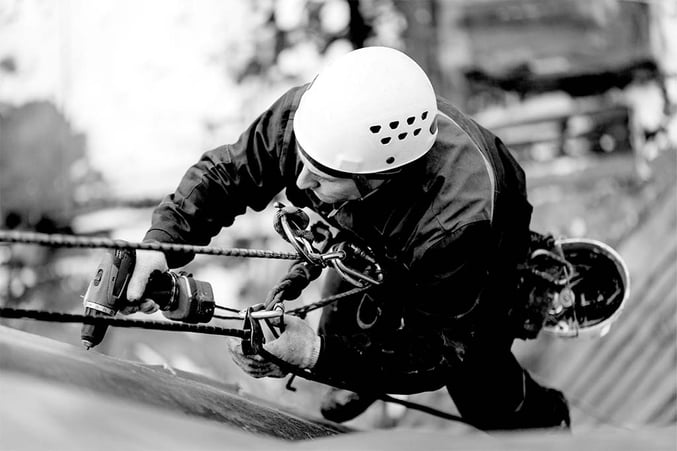 Image credit: Evgeniy+Zhukov/shutterstock.com
Every construction project presents a host of potential risks that need to be addressed. Although it's no guarantee that you can eliminate all of them; you can help manage them and de-risk your business. The best way to eliminate as much risk as possible is to have a Risk Management plan. Risk Management is the practice of identifying & analyzing loss exposures and taking steps to minimize the financial impact of the risks they impose.
When you take the time to evaluate your risk & exposures, and make changes to minimize those concerns, it can ultimately help your company avoid future claims. The best way to accomplish that is through:
Insurance Programs
Having a good insurance program is key. From General Liability, Professional, or Directors & Officers Liability, it's important to have the right insurance program that has the correct coverages, limits, and endorsements. Sometimes a Traditional Insurance Program is not the best option for your business and you may want to explore Alternative Risk Financing or Performance Based Insurance Solutions, i.e. a Captive Program or a Large Deductible Program. Either way, having the correct insurance program for your company ultimately helps minimize your risk.
Surety Solutions
As your construction company continues to work on projects, you are often required to provide bonds – Bid Bonds, Performance & Payment Bonds, Improvement Bonds, etc. Working with a good Bond Broker is critical to providing bonds specific to your company.
Surety Bond Programs cannot be a one-size-fits-all approach. Sureties look for accounts that fit a specific revenue size or do a certain amount of work a year. In addition, there are Contractors that only need one bond a year, or carry their assets outside of their company, or are new to bonded work and may not fit in the typical "Surety Bond Program."
Having an overall Risk Management plan in place that includes working with the right Broker, can minimize your company's risk & exposure through your Surety Bonds.
Safety & Claims Management Services
A good safety program can minimize your company's risk and exposures tremendously.
Implementing a Safety Program is a great indicator of how safe your company is. You will identify what risks your company has, and by working with your Broker, you will be able to address them. From Loss Control Assessments to Management Training to regular Safety Analysis, your Broker will be able to help.
Your Claims Management plan is also crucial, as accidents do happen. Having the process and procedures on what to do if one occurs, could save your company additional stress.
It can be difficult trying to estimate what the future holds. That's why, we have our Insurance, Surety, and Claims Experts walking you through the framework of each of these. See our Construction Risk Management Seminar recap here!
Our Risk Consultants are currently servicing the following locations:
East Coast: New York City, NY; Bergen County, NJ; Fairfield County, CT; Philadelphia, PA
Texas: Austin, San Antonio, Houston, Dallas
California: Orange County, Los Angeles County, Riverside County, San Bernardino County, San Diego County