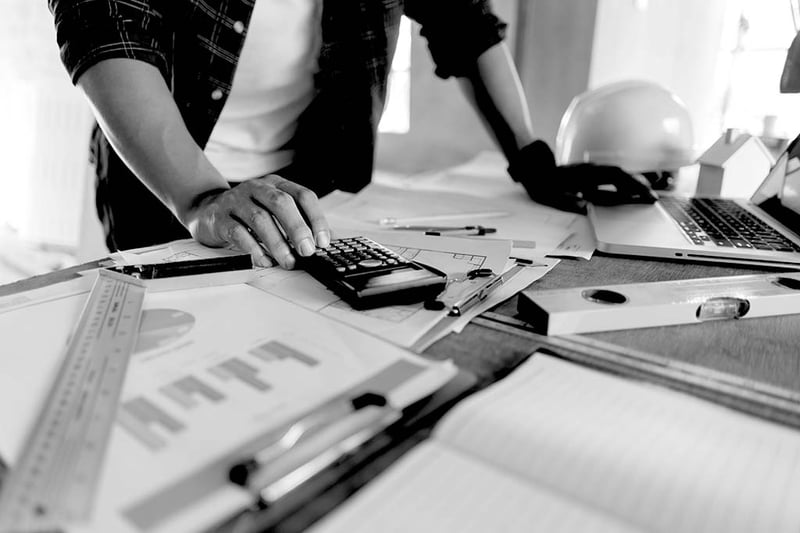 image credit: asawin+klabma/shutterstock.com
When it comes to growing your construction company, we often associate success with money. The more money we make, the more successful our company. One of the most important things you can do as a business owner is master your financial health. When you have a clear picture of your finances, you're able to identify your company's strengths or weaknesses.
Here are 3 ways you can start mastering your company's financial health:
1. Understand Your Financial Statements
Balance Sheets & Income Statements can seem confusing. However, reviewing them consistently gives you a good idea of what your key financial numbers are and how they contribute to your overall financial health.
In addition, Creditors look at a variety of different financial formulas, based on your Balance Sheet & Income Statement. When you familiarize yourself with formulas such as working capital, current ratio, and return on investment, you're able to see how the Creditors are viewing your company's overall financial well-being.
2. Determine Your Financial Performance
It's important to review the previous year's financial performance. This not only gives a general insight into your company but enables you to understand where you stand regarding your Current Assets and Current Liabilities. This demonstrates to Creditors that you're an engaged business owner who is aware of the business' daily activity and results.
3. Perform A Financial Health Checklist
Evaluating your goals and being honest with yourself about your company is important. Think about last year's business results versus where you want to be. Having a Financial Health Checklist is a great way to focus on what's important throughout the year.
Creditors such as Banks and Sureties use these key financial statements as an essential underwriting tool when making decisions like bonding, which ultimately support your business. This is why it's important to understand how to read your financial statements. When you have a handle on your financial health, you're able to make adjustments when needed. A company that is in good shape financially has a better chance of being successful.
If you have questions about your company's financial health or would like to have your company's financials evaluated, reach out to TSIB today to meet with one of our Risk Consultants.
TSIB's Risk Consultants are currently servicing the following locations:
East Coast: New York City, NY; Bergen County, NJ; Fairfield County, CT; Philadelphia, PA
Texas: Austin, San Antonio, Houston, Dallas
California: Orange County, Los Angeles County, Riverside County, San Bernardino County, San Diego County