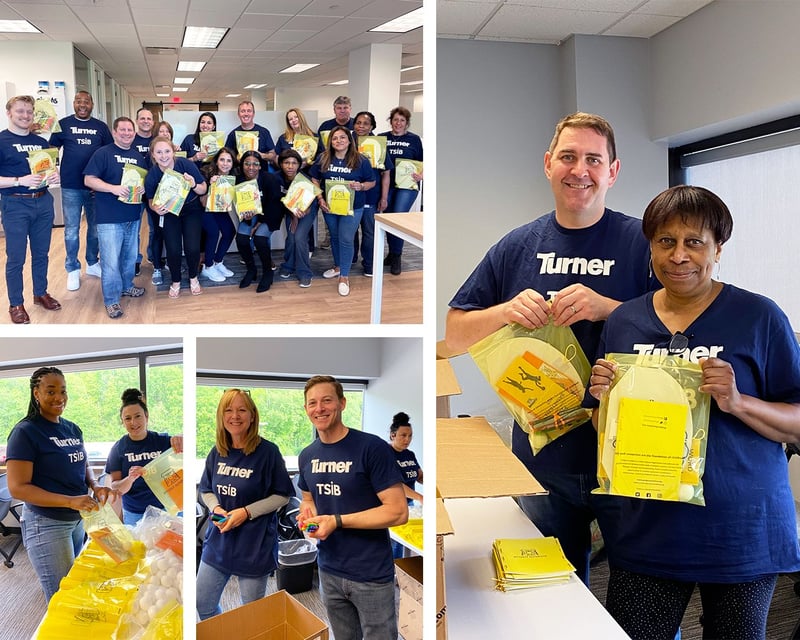 Every year TSIB works with an organization that positively impacts our communities. This year we chose to work with Project Sunshine.
Project Sunshine
Project Sunshine is an international non-profit organization that helps bring joy to pediatric children and their families. They have a unique approach through the Power of Play. Volunteers interact with the patients, which:
reduces stress in children

helps their mind & bodies heal
Volunteering can be in person, TelePlay, or the most popular, Sending Sunshine Activity Kits. These are the most requested since the children have been so isolated due to the pandemic.
Volunteering
TSIB wanted to make a difference knowing the medical hardships these children and families are facing each day. As a volunteer, you're able to put a smile on the faces of children and assist in their healing. We were determined and excited to get this event going.
TSIB's Shelton, CT and Saddle Brook, NJ offices put together a total of 700 Sending Sunshine Activity Kits. These kits not only brought joy, but they also add therapeutic, physical, and emotional healing. TSIB employees put together Basketball Kits. This kit focuses on mobility, socialization, and normalizing the hospital environment. Each kit included a:
journal

basketball hoop

activity brochure

Teleplay postcard

ball

sheet of foam letters

markers
Once these kits were completed, they were shipped back to Project Sunshine and distributed to various local hospitals.
TSIB employees had an enjoyable time putting these kits together. It was not only a great organization to volunteer for, but it was a wonderful team-building event that brought many employees back together, after being apart for so long.
If you are interested in volunteering with Project Sunshine, please visit their website.
TSIB's Risk Consultants are currently servicing the following locations:
East Coast: New York City, NY; Bergen County, NJ; Fairfield County, CT; Philadelphia, PA
Texas: Austin, San Antonio, Houston, Dallas
California: Orange County, Los Angeles County, Riverside County, San Bernardino County, San Diego County