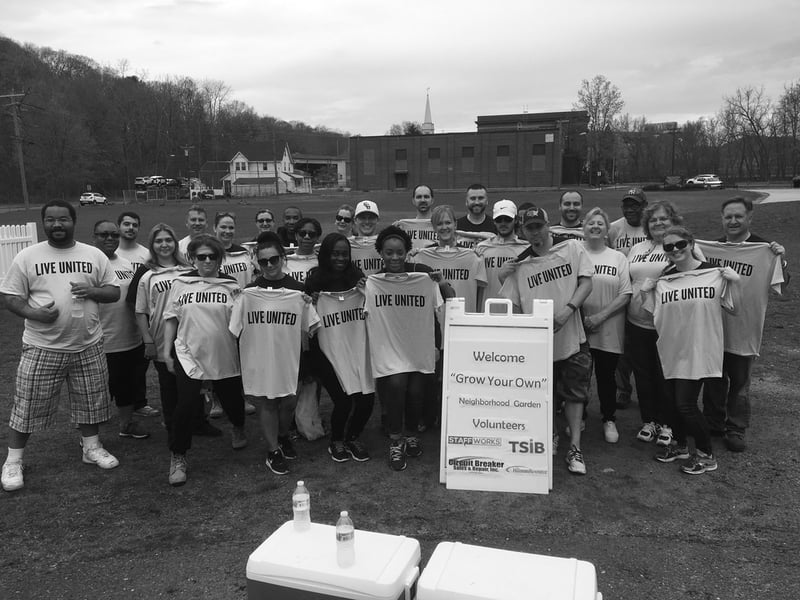 A couple of weeks ago, over 20 TSIB employees from the CT Office set out to help their local community build a garden. They partnered with an organization called The Valley United Way, whose goal is to improve the quality of life for people living and working in the Valley by funding programs & organizations that make a measurable difference.

How TSIB helped make a difference
The Valley United Way builds gardens in Ansonia, Derby, Seymour, Shelton, and Oxford, CT. Each garden can feed up to 100 people and offers the opportunity for lower income residents to participate in healthy living. The gardens have a garden shed with all the tools necessary for the residents to nurture the harvest.
The TSIB team helped build the garden in Seymour, CT. They planted parsley, tomatoes, cabbage, thyme, scallions, etc. and helped build a fence. Once the garden had been set up, the local residents learned to maintain the garden through training from The Valley United Way team.
President Sharon Gibson Ellis said "These gardens are deliberately placed in low income neighborhoods so that the residents can walk to the garden and participate readily."
For more information on this organization or to see how you can help in your local area visit their website at http://valleyunitedway.org/.